Sivananda Yoga Farm Blog
Raja yoga
Raja Yoga is the science of controlling body and mind. The asanas (body postures) and pranayamas (breathing exercises) from Hatha Yoga are an integral part of this yoga path. The main practice of Raja Yoga is silent meditation, where bodily and mental energies are gradually transformed into spiritual energy. Read more in Our Teachings section on Raja Yoga.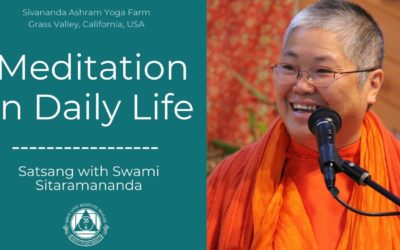 There are different definitions of meditation. One of the definitions, the classical way, is the definition according to Patanjali. According to Patanjali, meditation is at the seventh rung. That means seventh step of the eight steps ladder of yoga, a Raja Yoga system. That means you have to prepare yourself, in order for you to be able to be still. Yamas and niyamas are the two first rungs in Taja Yoga, guiding you to have proper behavior that will not bring about any kind of reaction, that will bring about peace.
read more
Subscribe to the Yoga Farm Newsletter for regular updates, articles, and upcoming events.